The esports industry has been growing steadily for the past couple of decades due to the rise in the popularity of online multiplayer games. In addition, universities saw that many students are interested in competitive gaming. This led to the introduction of varsity esports programs and the construction of esports arenas and facilities within campuses.
Members of collegiate esports teams enjoy scholarship grants and access to state-of-the-art gaming equipment. Universities and colleges have also started offering other programs for incoming students interested in finding a career in the esports industry.
But an esports facility is more than just several gaming PCs in an unused classroom. ggCircuit has provided solutions with software, consulting, on-site assistance, and remote maintenance to over a hundred universities. Here are some of our customers that are now successfully operating their esports facility.
---
The Ohio State Esports Arena is located at the Lincoln Tower of the Ohio State campus. It features 80 state-of-the-art gaming PCs, consoles, and two VR systems!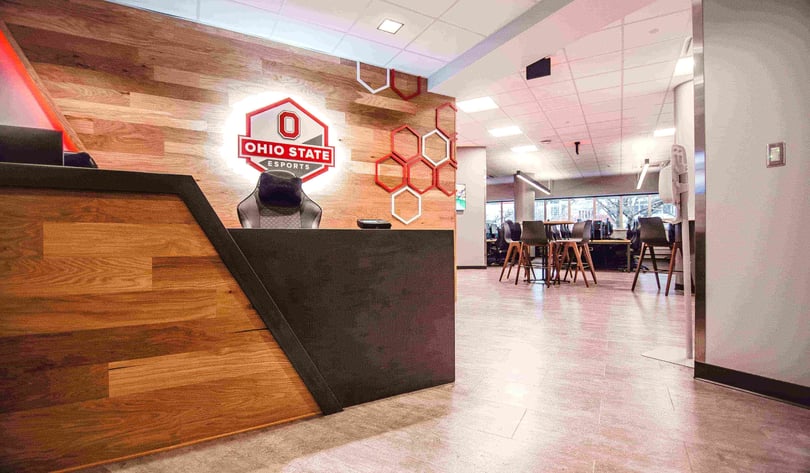 The Arena is where their Premier Teams train for competition, and gaming events are live-streamed through their broadcast studio. Additionally, students may apply as broadcast interns, which will give them exposure to many opportunities within esports and broadcasting.
The Arena is open to all students, and BuckID is required to access gaming equipment.

Opened on September 23, 2016, the UCI Esports Arena is a 3,500 sq. ft. facility located at the Student Center Terrace. This facility is equipped with 36 high-end gaming PCs and several gaming consoles.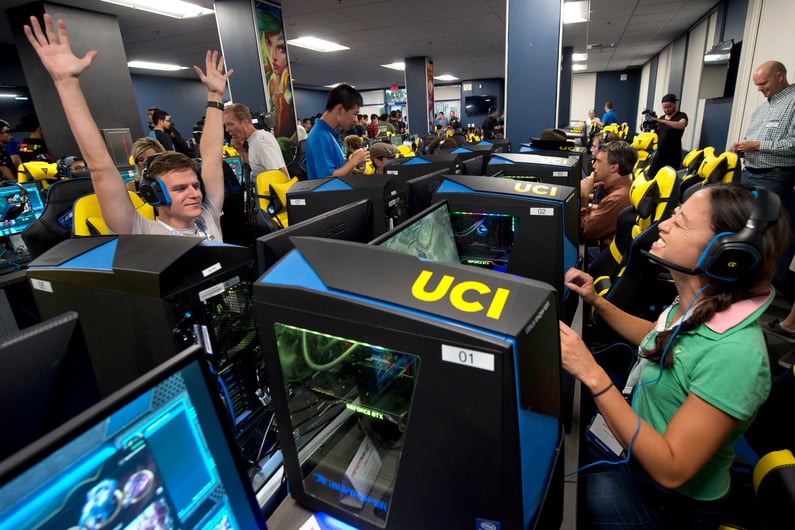 UCI has an esports program centered on its five pillars: Competition, Community, Academics & Research, Entertainment, and Careers. In addition, full-time students may apply as varsity players and get scholarships.

The Carolina Gaming Arena can be found on the campus' Craige residence hall. The facility boasts 33 gaming PCs and three gaming consoles. In addition, visitors can watch live gaming events through the Casting area.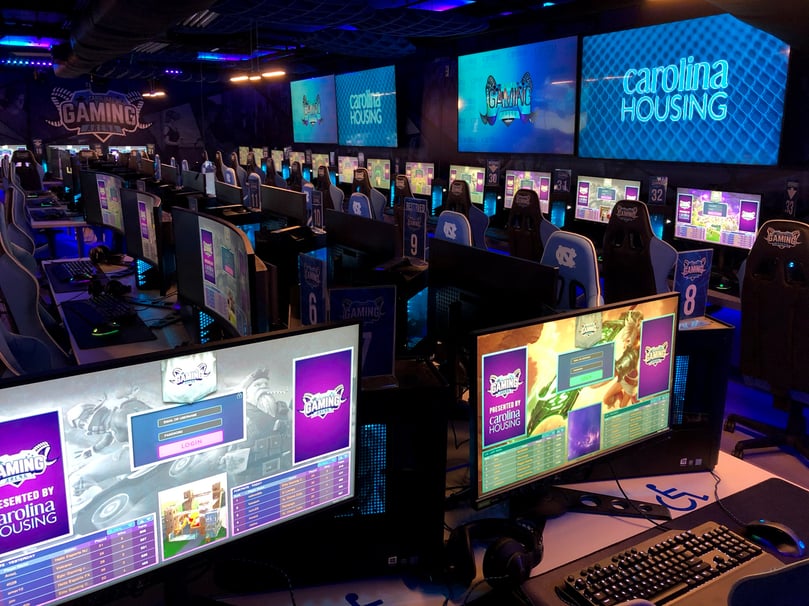 UNC also offers game-related courses for students that want to pursue a profession within the esports industry. Of course, students can apply to the Carolina Esports program to represent UNC in the NACE Starleague.

The Esports Park first opened its doors Fall of 2022, offering a place where people interested in gaming can meet. This 7,500 sq. ft. hub is located at Sunset Avenue Parking Garage within Butler University.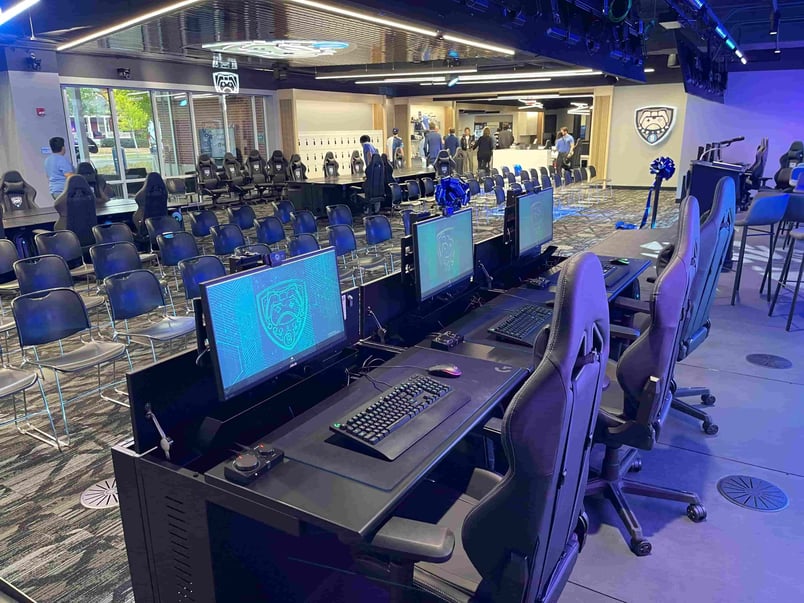 Butler's Esports Park is open to students and the public. The facility contains a gaming area equipped with 36 high-end PCs and consoles, a cafe, a lounge, co-working spaces, an events space, and a studio and production room.

The Boise State Esports Arena is located on S Capitol Blvd. in downtown Boise. This arena houses over 60 gaming stations and is separated into two sections: the first one is the Esports Arena which is primarily used by the varsity team, and the other is the Battleground which is mainly used for practice.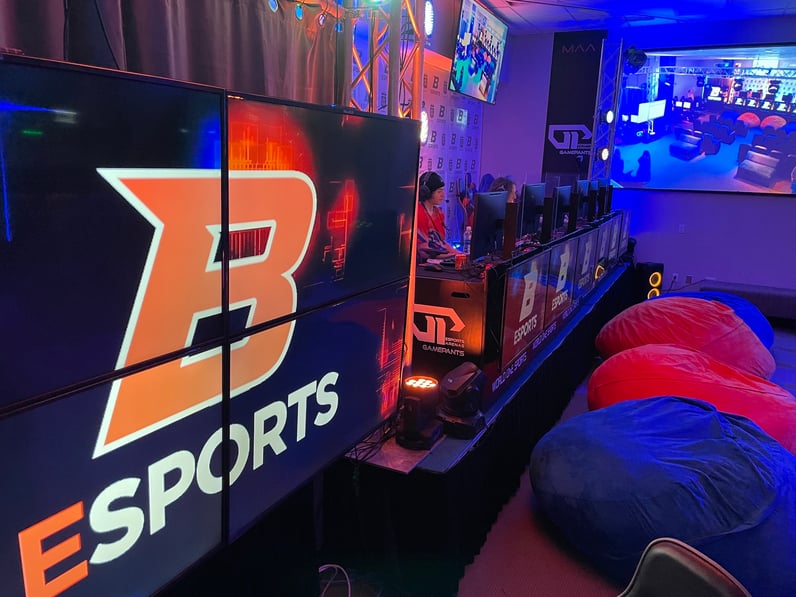 Boise State offers esports scholarships for eligible students interested in representing the school's varsity team. Boise also has an esports camp for high-school gamers called EsportsU.

Located in the Purdue Memorial Union, the Boiler Game Mine is Purdue's answer to the growing demand for an esports facility among their student populace. Outside visitors may also come in and enjoy the high-end gaming experience the facility has to offer.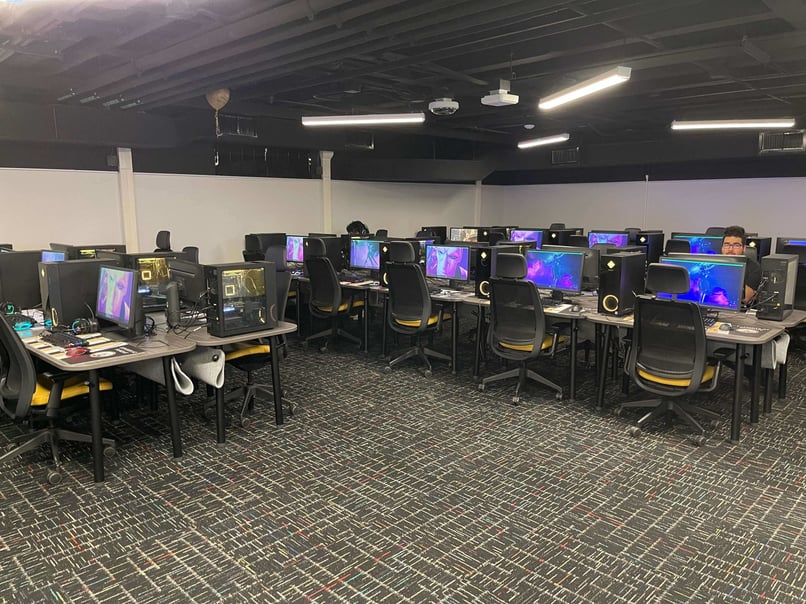 Purdue's premier gaming facility has 26 gaming PC and consoles, such as Nintendo Switch and Xbox Series S. People not interested in video games can opt to play Bowling or Billiards in the Union Rack and Roll just beside the Boiler Game Mine.

How can a University Ensure the Success of its Esports Program?
There is no denying that esports is already a part of mainstream entertainment. While esports is still far from being an Olympic event, debates about whether it is a legitimate sport are still raging on.
A university may add esports courses and varsity teams to cater to the gaming demographic. Competitive players, however, are just a piece of the bigger pie, and the majority of that audience is still among the casual gaming crowd.
Adding esports can be more than just about competitive gaming. It can be added to complement other academic pursuits, such as video broadcasting, game development, and computer science, among others.
Here is one of our articles where this topic is discussed in more detail. The following section discusses the other things needed to operate an esports facility or arena.
What does a University Need for its Esports Facility?
Most universities' computer laboratories are insufficient if they are used for esports gaming purposes. For starters, PC specs have to be high-end and be able to run games that are commonly played in esports tournaments. Gaming equipment and accessories are also needed to ensure optimal performance and ergonomics for the players.
Aside from the obvious, several other things are needed for a successful collegiate esports program. Here is a list of things an esports facility must have in order to ensure a smooth operation.
Diskless Boot
Most esports centers have done away with using local drives for a great number of reasons. Among them are security and cost-efficiency. Esports games are infamous for their constant updates, and being able to update all PCs at once can save employees a lot of time and ensure PCs are ready for use anytime.
ggRock is a robust PXE boot software that many universities and esports venues around the world have been using to great efficiency.
Want to learn more about this work? This article talks more about PXE or diskless booting.
Esports Management Software
Monitoring and managing each PC in a facility can be difficult without the proper tool. Therefore, opting for software that does everything needed in an esports facility is an absolute must. Good thing that ggLeap has everything an esports facility may need, such as user management, time allocation, activity monitoring, and more!
Let's break down some of the core features that ggLeap offers.
Game License Management
Most esports games require a license to be able to play. While most gamers have their own account, and some esports games are free-to-play. However, having in-house accounts will alleviate the need for students to create an account or purchase games that are not free.
User Management
This will enable facility employees to monitor user activity, allocate time, and update users' information, among others.
Device Management
This feature enables employees and admins to check PCs and consoles available or in use at a glance. PCs can be restarted, shut down, and locked from here. Additionally, users can be logged in or out from here.
PC Reservation
An esports team may book a reservation of several PCs for team practice. This feature will ensure that devices will be available and prevent other students from using them.
Why are University Esports Programs Essential for Students?
The short answer is that esports is just like any other sport. Esports programs will help students who like to play video games learn about teamwork, camaraderie, and healthy competition. Games like League of Legends, Rocket League, and Overwatch require teammates to communicate, coordinate and work together to defeat an opposing team.
As we have mentioned before, esports also opens many opportunities for students who are not interested in gaming but are interested in making things work from behind the scenes. For example, students can sign up to be game commentators or be part of a production team for a school's live stream of their games or other esports events.
Having a varsity esports program can also help financially deprived students who have skills in gaming to earn esports scholarships. Additionally, it may bolster new admissions in the university as some students prefer schools with esports programs.
Depending on the university, they may charge students for the PC rental, which will help the institution maintain the equipment and pay for the employees, who are mostly students themselves – another positive aspect as it gives employment opportunities.
Of course, the gaming facility may not be exclusively for the use of varsity teams; students who like gaming may want to play PC or console games with their friends in between classes. This promotes a healthy social environment where a gamer does not have to play alone and has a place where they can play among like-minded people.
Our article expounds on the benefits of having esports in school.
What Universities have Esports?
According to the National Association of Collegiate Esports (NACE), they have more than 170 member schools. Here is a list of the schools under NACE.
It only goes to show that esports has reached critical mass and will be a significant part of collegiate sporting events where students can participate in representing their team.
ggCircuit has over 100 university subscribers, which is a testament to how our products have helped universities and colleges run their esports facilities more efficiently. Read more about our 100th university milestone here.
In Conclusion
The future looks bright for students looking for careers in competitive gaming. University esports will help shape their future through esports scholarships and various other learning and economic opportunities.
ggCircuit is a part of Esports Entertainment Group (GMBL).
Jason McIntosh
Supporting esports venues through software tools and services.